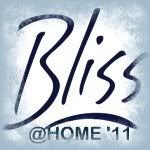 There is a party going on over on Facebook right now. It is one that you don't want to miss. It is called
Bliss at Home
and is for those of us who just can't seem to make it out of the house to conferences like
Blissdom
. It is a place for us to network, learn from each other and just let loose from home! Come and check it out! The hosts for this wonderful party are:
Shash, from
Shasher's Life
Krisin, from
Peace, Love and Muesli
Maija, from
Maija's Mommy Moments
I know that I am not the most well known blogger, and I don't claim to know it all. I really wanted to share a post with the Bliss at Home folks this week...so, I thought and I thought and I thought. Just as an introduction and maybe as a way to help out someone else who may feel like this sometimes! Feel free to add your comments and ideas here too because I am still learning!!
What is my "expertise"? What is my "niche"? Sometimes, I feel like I am so all over the place that I really don't fit in anywhere. So, I have made my own "niche". It is for those of us who may not be so focused on one particular thing. Some people focus on:
Mommy Blogging (I fit in here because I am a mommy, but I don't only blog about "mommy stuff")
Reviews and Giveaways (I fit in here because I do some reviews and giveaways on my blog, but I am just starting at that and I don't only do reviews and giveaways)
Special Needs (I fit in here because I have and blog about my daughter, who has some special needs, but I don't only blog about her)
I could go on and on...but you get the idea. I "fit in" to all of these topics, but I don't want to limit myself to just one. I am not alone here, right?
What I have learned in my 5 years of blogging is that my blog is about me. That is my niche! It is me!! I have been up and down with my blogging and have just started picking it back up in that past 6 months to a year. It has been hard to not make it all about my daughter who was born with many problems and I think I am just figuring it out now, how to keep the blog about everything in my life (that I am willing to share!).
Some pointers that I would have for those starting out, or for those who are trying to figure out where they sit in the wide world of blogs would be:
Be yourself. First and formost, be true to who you are. Most of the time, readers can tell when you are being real. Writing flows when it is real.
Comments aren't the be all and end all of blogging. I know that I have readers. I have received quite a few emails from people lately, instead of comments. It is exciting when a comment comes, but I no longer gauge my blogs value by the comments I receive.
It is ok to blog on varying topics. We all have so many different interests that is what makes us all unique! It is the individuality that keeps people interested.
Don't blog about everything in your life. Pick some things that are private, that you will never share. It is nice to be open about things, but you still need to have your life outside of blogging.
If you have nothing to blog on a certain day, put up a picture, or just don't blog. I have used funny headlines instead and many pictures. Those are better then filling your blog with just words. Your content should be valuable!
Participate in daily blog hops, when you can. It gives you an easy day for content (sometimes) and you get to meet new people along the way.
Return the comment love!! If someone has left you a comment, go back and say hi. Find out who they are. You never know what kind of connections you may find out there:-)
I know this is not the whole list, there are so many different things that can make a blog successful.
What other advice would you have to give to others wanting to learn more?