Black Friday is upon us (especially for my US readers) and people are getting excited about the deals and sales that they can take advantage of.
I have a great suggestion for those of you who want the deals, but don't want to fight the crowds and lines this year...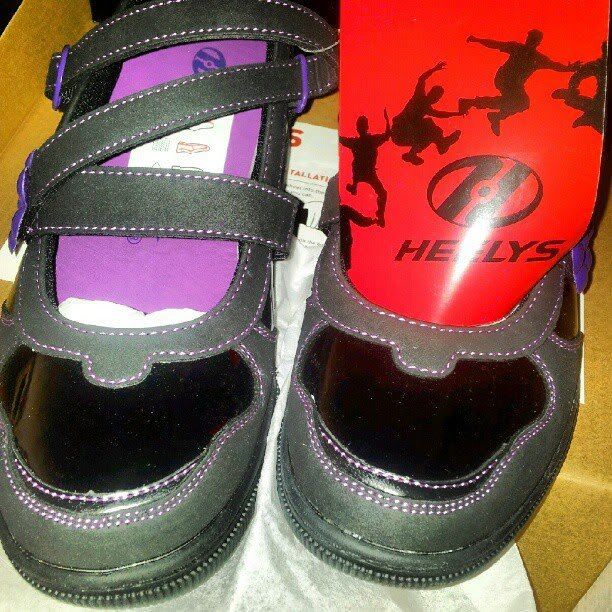 Heelys Offers Black Friday Shoppers Deep Discounts, Free Shipping at Heelys.com

Carrollton, TX -- Nov 14, 2012 / In honor of Black Friday, U.S.-based

Heelys, Inc.

(NASDAQ: HLYS) is ready to roll out two discount deals for U.S. residents, plus

free ground shipping

on all orders.

The first discount: buy any pair of traditional or HX2 Heelys, and get a second pair for $25. In addition, buy a NANO and get any pair of Heelys for $25.

This holiday special will run from

12:00 AM (CST) on Nov. 22, 2012, through 11:59 PM (CST) on Nov. 26, 2012

. To qualify for the discount deals and free shipping, customers must be

U.S. residents

who purchase through the Heelys website,

http://www.heelys.com

.

Heelys is best known for its popular "wheel-in-the-heel" shoes, which allow users to seamlessly transition from walking or running to rolling -- otherwise known as "Heeling" -- by simply shifting weight to the heel.

With the Black Friday incentive, buy one pair at the regular price and get the second pair for $25

.

"We're offering the same purchasing discount on traditional, one-wheeled Heelys, and our HX2, or two-wheeled models," said Rick Groesch, Heelys chief commercial officer. "One-wheeled Heelys are still our best seller, but the HX2 model is very popular with younger skaters. The HX2 doesn't require as much leg strength and features two removable wheels in each shoe for better balance and control."

After wearers become more accustomed to skating, HX2 models can be converted into a traditional pair of Heelys by removing one of the wheels. Pop out both wheels and the HX2 becomes a regular street shoe.

"

The last Black Friday discount

--

buy a NANO, get a pair of Heelys for just $25

-- is a great way to combine our best products," adds Groesch. "The NANO can only be used with Heelys footwear. It's a special board that links into your Heelys' shoe bracket. The NANO allows you to skate farther, faster and longer than ever before. It's the ultimate skating experience."

To use the

NANO

, simply remove the wheel from a Heelys shoe and snap the wheel bracket into place. The NANO is designed for use on a single foot, like slalom skiing or wakeboarding.

Heelys, Inc. is a company founded on innovation. It designs, markets and distributes its action sports-oriented products to the youth market under the Heelys(R) brand. The company's primary product, Heelys wheeled footwear, is a patented dual-purpose skate shoe that incorporates a stealth, removable wheel in the heel.
Connect with
Heelys on Facebook
,
Heelys on YouTube
, or
Heelys on Twitter
These are some pretty sweet deals! I know that my daughter loves her Heelys and I know a bunch of kids who would love a pair for Christmas!! (I even know some adults who would like a pair too;-)
HAPPY SHOPPING!!