Cutie Pie has been so patient waiting to have a party. We finally had it yesterday. Her birthday is Dec. 22. It sucks having a birthday so close to Christmas, it is awkward inviting people to a party when they are dealing with Christmas too, so we put it off until timimg was better. Doesnt' she look thrilled??? (she was not wanting a picture taken. She had her housecoat on, ontop of this costume and I wanted a picture of that, but tell me, whu do girls get self conscious so early, or is it just mine???)
It was fun. It was a craft party, I forwarned the parents on the invitations, for their kids to 'come dressed for mess' and a few went home with quite a bit of paint on them, but they had a great time. The craft they made was a gumball machine.

First thing was to paint the flower pot and saucer, the clay ball and the flat circle, then we let it all dry. The kids got washed up and came back down a played for a few minutes, then we had hot dogs and juice. After that, we had our ice cream cone cakes and ice cream. The kids each got to decorate their own cake with icing and sprinkles and enjoyed eating them. Then they watched a Dora movie (It's a party, very appropriate) and my friend Cheryl and I hot glued the pieces of the gumball machines together. They are so cute. After all that, we opened the gifts. She is such a blessed girl, she got some colouring sheets, a housecoat, slippers a kelly doll and accessories, a baby and bear, some stickers, a tinkerbell costume with wings, stockings, a notepad and a pen, a cup with her name on it, some markers and doodle paper and other things I am sure I have missed. Her favourite gift was a new pair of shoes.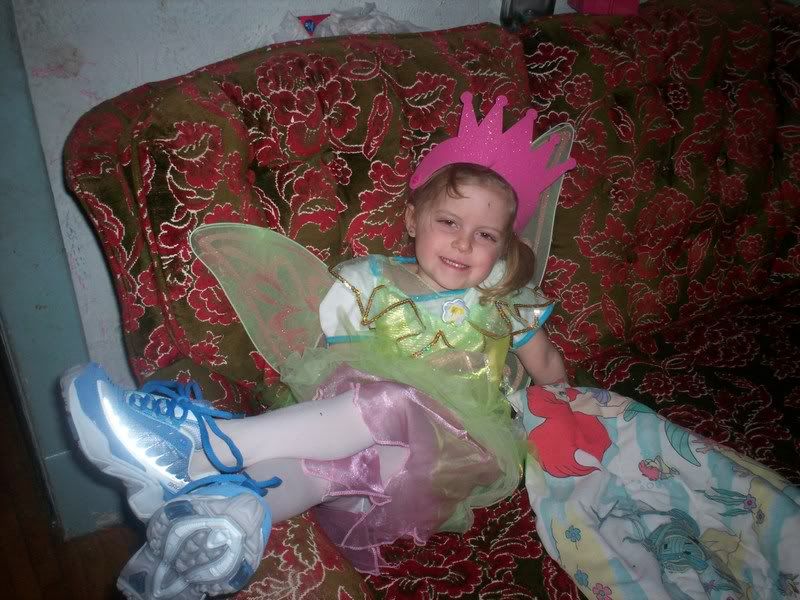 She screamed in excitement at the shoes!! Now, it makes it seem as though she never had a pair before, and she has. After everyone left she sat on the couch in her tinkerbell costume and asked me to show her how to tie her shoes up.
This girl is full of determination. She watched me tie them about 5 times and I held her hands once while she did it on her own. She tried again and again...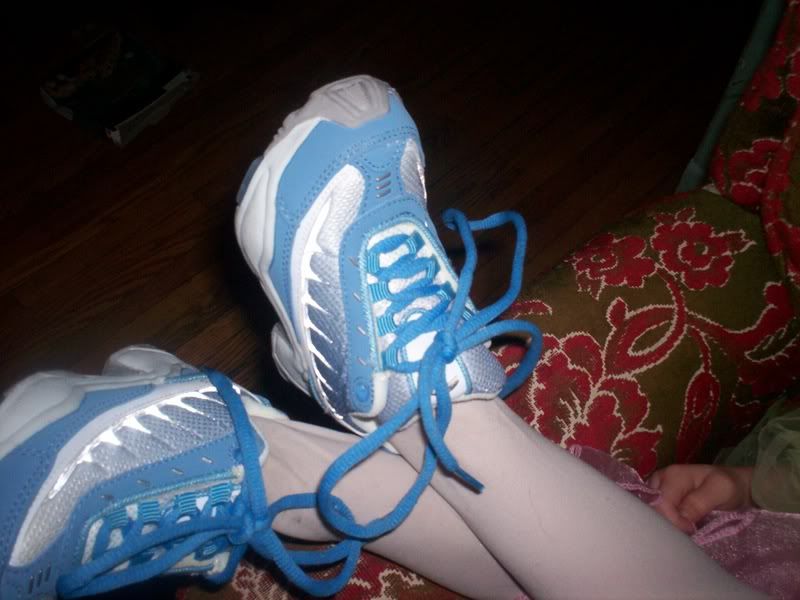 This was the final product, on her own. She did them again when daddy came home from the store to show him. She just kept doing them over and over. She was so happy...
I still can't believe she is already 5.