So, we have made the conversion from homeschooling to going to school.
The first day went well...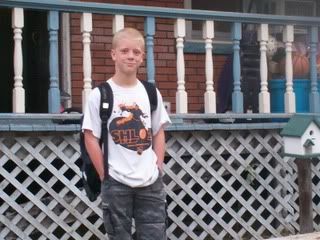 Mr. Hockey headed out to his school, just down the street. He seemed a bit nervous, but did very well. When he came home, he was so excited to tell us that he was trying out for the football team on Thursday. Then I signed my life away!!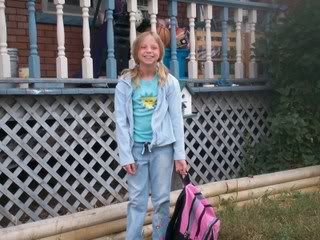 Princess was picked up by my mom and taken to her school, jsut a bit out of town. My mom also took Pooky...since I was going to go with Cutie Pie. When she got home, she went straight to her homework and was excited to be sitting at a desk with one of her friends from last year.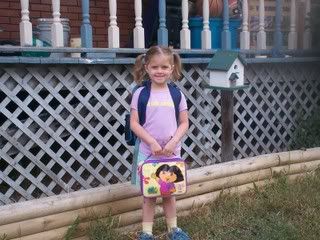 My sister came and picked up me and Cutie Pie and brought us to her school.
I took all kinds of pics and actually became quite emotional. I didn't expect to...that caught me by surprise.
When we first woke up that morning, Cutie Pie came downstairs and asked if she was going to a Christian school. I said that she wasn't. She asked me if she was allowed to talk about God at all. I said that it would be fine. She then proceeded to sing me a song she 'wrote' about God and how you have to believe in Him...and she was going to sing it to her new friends at school...
So, she was ready to go.
All the kids met at the flagpole and sang O Canada, then we had to find the grade 1 sign and follow that teacher. So, off we went on our search. We found her and there were so many kids and parents, and I kept telling Cutie Pie to hold my hand, so she wouldn't get lost and she wouldn't hold my hand...twinge of sadness...
All the kids went into a classroom and the teachers were calling out the kids names, then the kids followed them to their classrooms. When they called Cutie Pie's name, she went and stood in line, but the teacher hadn't seen her. So the teacher called her name a few more times and finally Cutie Pie spoke up with a "I am right here"...I knew then, that she would be fine.
We followed the kids to their room and watched them find their names on the desks. She was front row centre...I wondered how the teacher knew her so well already!!
But, this is when it hit me. She was so small, up in the front of the class, sitting at her desk. She just seemed to little for this experience...I teared up...
Then when my mom came to pick me up, again, I was almost in tears telling her about her first day.
But, all in all, everyone did fine...even me!!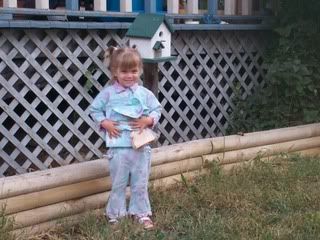 Oh yeah, then there was Pooky...who had to make a lunch the night before, with the others and bring her book, have her hair done and wear a nice outfit...she was a bit disappointed to not be at school.