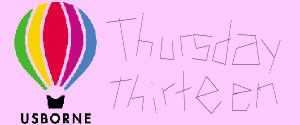 Thirteen Things I have to do to get ready for the party on Saturday!!


1. Clean up the kitchen and dining room table
2. Clean off my desk
3. Get the flyers copied and delivered
4. Get the baking done
5. Make the decorations (this is what the kids get to do!!)
6. Get the craft packs ready for the kids who come with their parents (this will keep the kids occupied while the parents have time to browse the titles!)
7. Buy a mop and use it!!
8. Make sure I have all my Usborne books out and ready to display
9. Buy the prize basket items and prepare the basket
10. Prepare the draw tickets and print them off
11. Find our Christmas music
12. Hang up the sign that Princess and Cutie Pie made for the party
13. Get ready to sell lots of books (hopefully!!) If anyone would like to order, but can't make it to my house, let me know and I can help you out. I will cover any extra shipping costs (in Canada) to have the books go directly to your door.

Links to other Thursday Thirteens!




Get the Thursday Thirteen code here!


The purpose of the meme is to get to know everyone who participates a little bit better every Thursday. Visiting fellow Thirteeners is encouraged! If you participate, leave the link to your Thirteen in others comments. It's easy, and fun! Be sure to update your Thirteen with links that are left for you, as well! I will link to everyone who participates and leaves a link to their 13 things. Trackbacks, pings, comment links accepted!

View More Thursday Thirteen Participants