Ok, as many of my readers know, I have a BFF...and no, I am not a teenager (or preteen for that matter) but Cheryl is my best friend and has been for 10 years!!
We try to get together regularly to destress after work, or just to talk about life and how it's treating us!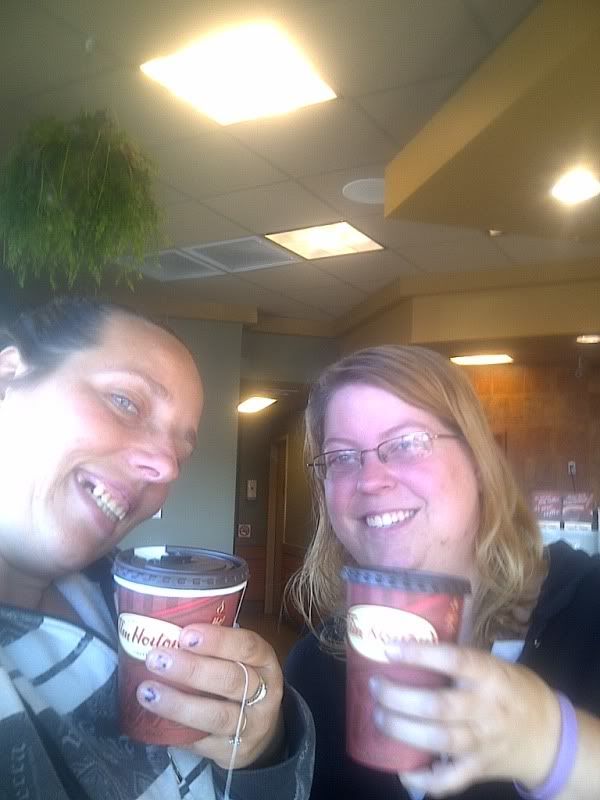 But, we both work, and this week we haven't seen a lot of each other, so I decided to take her on a date (while all the kids were in school:-)
I drove over to her place, and after we prepared a turkey for work, we headed to Tims, one of our favourite places to go...
Cheryl always orders a tea with milk and sugar and the bag in, and I normally order an iced capp, but today I got a coffee! I still don't think I am jumping on the coffee train, but once in a while it is nice to enjoy...

We went to a location by our work, it is a nice, big, standalone location that we frequent with work (yes, we work for the same organization), so Cheryl knew the supervisor who was on this morning.
I asked her about what sweeteners were offered and there was only one choice at this location, Splenda. I asked about if they would ever consider providing more choices, specifically
Equal
. The supervisor said that she wasn't the one who makes those decisions, but she would like to see a wider variety as well.
And I didn't have a pen on me, so I ran to the car and grabbed the only thing we could find...a purple highlighter!! I am sure my comment will be one that stands out...lol.
I personally have only occasionally used sweeteners, but since we have been having more people over, or gone out to friends places for coffee visits, I am thinking that I should have a variety of sweeteners on hand (could have used it last night with my aunt and uncle who are both diabetic)...Gotta add that to my to-do list...
What made this trip even more fun was the Coffee for a Year contest going on at Tims right now. We both have blackberries and just started using the QR Codes...there was a big QR Code on the door that was attached to a user survey, which we filled out on our phone while we were there too...who knows? Maybe we will win (and my hubby will be thrilled as he is a major Tims coffee fan!!)
I am so glad that we had this time to catch up, it is nice to be able to relax and enjoy a drink with a friend when the kids are in school...much needed me time!!