DO YOU HAVE ANY MONKEYS IN YOUR HOUSE?

I know I do and they love any movie that has any kind of monkey in it:-)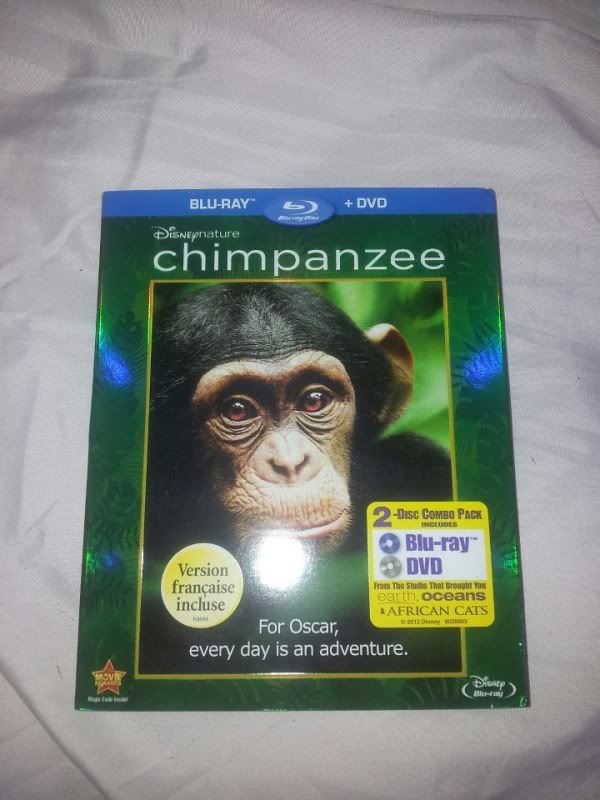 Synopsis:
An intimate look at the world of chimpanzees.
Disneynature takes moviegoers deep into the forests of Africa with Chimpanzee, a new True Life Adventure introducing a baby chimp named Oscar and his entertaining approach to life in a story of family bonds and individual triumph. Oscar's playful curiosity and zest for discovery showcase the intelligence and ingenuity of some of the most extraordinary personalities in the animal kingdom. Working together, Oscar's chimpanzee family—including his mom and the group's savvy leader, Freddy— navigates the complex territory of the forest. The world is a playground for little Oscar and his fellow young chimps, who'd rather make mayhem than join their parents for an afternoon nap. But when Oscar's family is confronted by a rival band of chimps, he is left to fend for himself until a surprising ally steps in and changes his life forever. - added the official version from disney.com on May 3, 2012

Again, after arriving home from camping this was another movie that was waiting for us!!
Disney has done a great job with their nature films. They are always bright, intriguing and keep my attention! I also love learning new things and love that my kids can learn in a fun way that appeals to them.
I was supposed to run a giveaway that should have ended on August 17th, but with everything that has been going on in my house and summer coming to an end, I missed the deadline by a lot!!
I am going to start the giveaway today and end it on September 7th, at 11:59pm, and if I am not able to run this giveaway (after confirming with my contact) I will email all entrants personally and let them know.
CANADA ONLY
Because it is last minute and so short, I am going to make it a few easy entries:
Mandatory Entry:
Tell me who in your house will enjoy this movie the most!
Optional Entries:
Follow
Mom's Musings
on Facebook
Follow
Mom's Musings
on Twitter
Follow
Walt Disney Studios Canada
on Facebook
Tweet Daily: Disney Chimpanzee movie #giveaway @momsmusings http://tinyurl.com/8jpym86 Ends 09/07/12 #disney
Sorry for not having this posted on time and I will let everyone know about the giveaway once it is confirmed.